Three tools available with the InterEvol database
---
1 - General Scope and Methods
The InterEvol server is designed to combine structural and evolutionary analyses of protein complexes interfaces.
It allows three levels of analysis either through the structural dimension (InterEvolDB), the sequences alignments one (InterEvolAlign) and through the combined analysis of both information through a dedicated PyMOL plugin (InterEvolPymol plugin).

36028 homomeric and heteromeric assemblies

available in the PDB and involving different proteins were automatically analyzed and are regularly updated.
3996 heteromeric non redundant interfaces

between two chains were identified (redundancy threshold at 70 % identity, one complex in the PDB can contain several interfaces)

PDB chains and the interface of their complexes were systematically compared and clustered so as to capture :

Structural homologs, which share similar structures and common evolutionary properties.

Structural interologs, i.e. structures of complexes between partners whose homologs also had their structure in complex resolved.
The characteristics of these interface were analyzed (redundancy filters, sequence and structural divergence, topology, biological/non biological, obligate/non obligate features, etc...) and are available through the InterEvol database browser.
1176 homomeric and 520 heteromeric distinct groups of structural interologs

provide a wealth of information about the coevolution events at complexes interfaces (one group can contains at least two non redundant interfaces, but can gather more than seven members).
Additionally, the multiple sequence alignments of the various chains in the InterEvol database were computed so as to provide for every interface an alignment for each partner 1 and 2 with the same species mirroring each other in the alignment.
The InterEvolAlign server offers the users to generate tailored alignments containing common species for both partners. It was used to generate those of the InterEvol database.
Visualization can be performed with a dedicated PyMOL plugin.
2 - Browsing of the InterEvol Database
For every hetero-complex of the PDB, the InterEvol database provides key informations organized in a 4 panel format.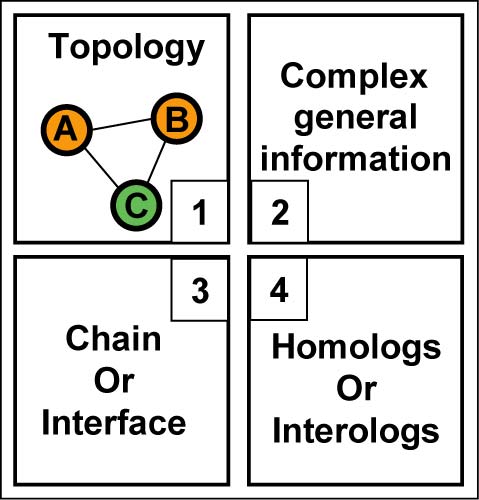 Three different topological representations can be selected. Chains (nodes) and heteromeric interfaces (edges) can be clicked to explore the complex components.

The assembly presented is either the assembly as assigned by authors in the original PDB file or derived from PISA quaternary structure generation method.




Example for a binary complex (2c35)

Panel 2

: General Structural Information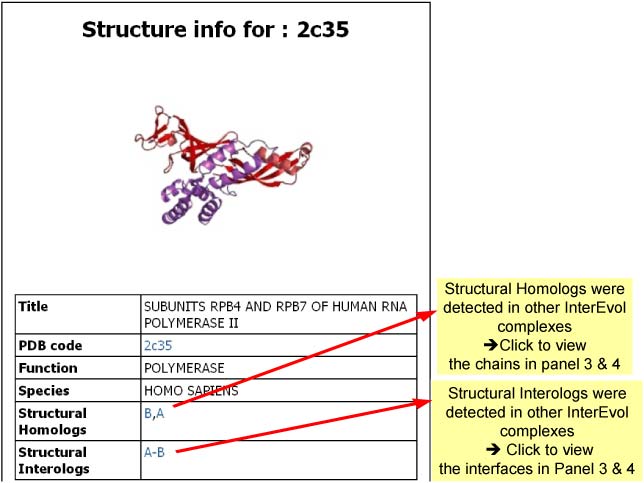 Panel 3a

: If a NODE (CHAIN) is clicked in Panel 1


Panel 3b

: If an EDGE (INTERFACE) was clicked in Panel 1


Panel 4a

: If a NODE (CHAIN) was clicked in Panel 1

Panel 4b

: If an EDGE (INTERFACE) was clicked in Panel 1

3 - Building Interolog Mulltiple Sequence Alignments.
InterEvolAlign server, is designed to generate
two multiple sequence alignments
for the sequences of two partners
known to interact throughout evolution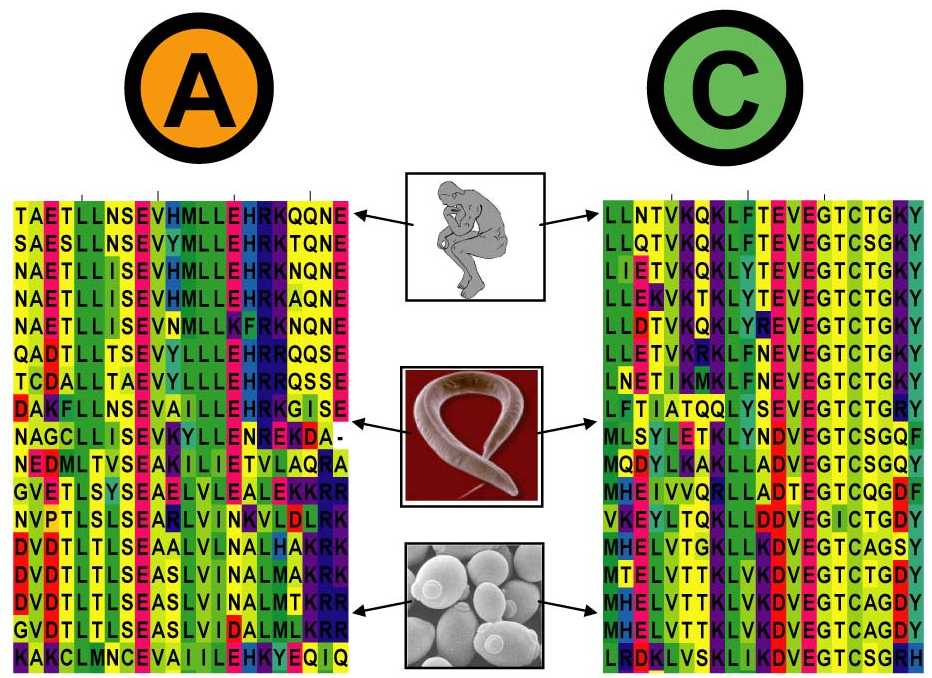 The search comprises two steps :
1. Generation of a multiple sequence alignment for both sequences with mirroring common species.
2. Search for homologs and remote homologs for every alignment against the InterEvol database using HHsearch.

The InterEvolAlign tool can be useful in at least three configurations :
You are interested in the alignment of interologs (homologs that kept interacting over evolution) for a given pair of sequences
You work with a structural model of a complex and you want to get an alignment for both partners to analyze the interface with the InterEvol Pymol Plugin
You work with a structure that is not available in the InterEvol database.
The output page is sent via email.

Typical search will last about 5 minutes depending on the server load.
1. Multiple sequence alignments
Both generated alignments are restricted to homologous sequences found in the same species. The species appear in the same order in both alignments.

Redundancy can be filtered (default: 90 % seq identity) and the search protocol can be tuned.
The divergence of the retrieved sequences can be controled so that every sequence share at least one homologous with more than a specific threshold of percentage identity.
Only one sequence for every species is selected.
2. Searching against the InterEvol database
Once the multiple sequence alignments are generated, they are used to search for homologous chains in InterEvol using the profile-profile comparison HHSearch.
The server also searches for Structural Interologs that have been already analyzed in the InterEvol database.
Example of an output obtained with the examples provided in the query page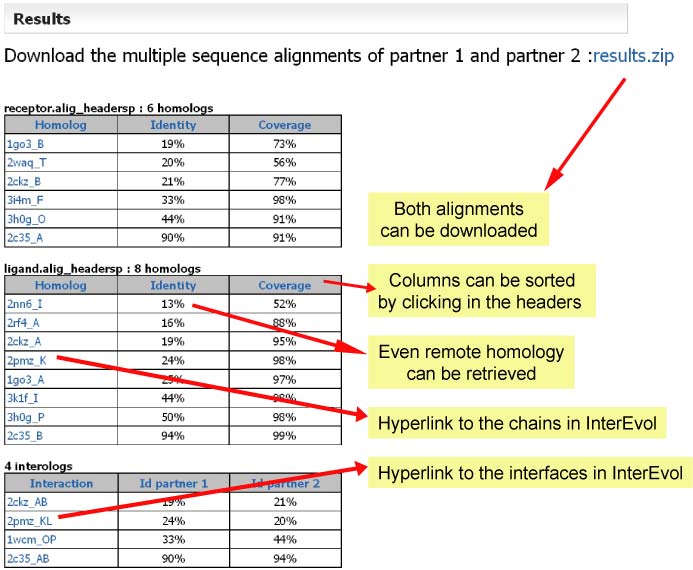 4 - Coupled Analysis of Alignments and of 3D Structures at Protein Complex Interface.